Looking for Driving Lessons in Heswall?
Learning to drive is a common everyday necessity for most. Although a challenging time for many individuals, it is a rewarding goal to achieve. Afterall, who doesn't need to get from A to B by car at some point in their lives?
There are many steps to overcome and lessons to study when learning to drive. From feeling comfortable behind the wheel and manoeuvring a vehicle on the roads, to driving on busy bypasses and mastering the bay park, each lesson will help you achieve a part of the driving puzzle.
If you're looking for driving lessons in Heswall or the surrounding area, consider our iGo driving school, offering highly valuable driving lessons. Whether it's your first driving lesson, and you feel nervous, or you've been learning for years, we can help you advance to test standard. Embark on a new challenge by learning to drive.
---
Learning to drive in Heswall
Have you previously attempted to pass your driving test? Maybe you've never sat behind the wheel of a car before? Or maybe you've had previous bad experiences when it comes to driving? We've experienced all scenarios here at iGo.
However, no matter your current situation or driving experience level, we can help you advance through your driving lessons, theory test and practical driving test. Firstly, we will help you learn the rules of the road, helping you feel comfortable with multitasking, such as changing gears and reading road signs. Once the times right, we will recommend the completion of your theory driving test, where hazard perception skills will be required. Once this has been achieved and your driving lessons advance, we will look at tackling manoeuvres, such as the emergency stop and forward bay parking.
Once our highly experienced driving instructors believe that you're ready and up to test standard, booking your practical driving test will be recommended. Please be reassured that our driving instructors have your best interest at heart and will truthfully recommend when deemed appropriate.
If learning to drive is one of your goals, here at iGo driving school, we can help you prepare, while feeling confident with your own driving skills. This may feel like a long way away currently. However, as you advance through your driving lessons, you'll soon feel ready to drive independently. Consider our available driving lessons in Heswall today.
---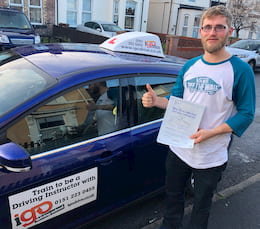 The benefits of consistent driving lessons
Now of course, we are sure that most learner drivers will love to box off their driving lessons quickly; this can be the case for some depending on their previous experience. However, for most, continuous driving lessons will be highly beneficial. Although both financial investment and commitment is necessary to reach test standard, driving lessons are highly valuable and worthwhile; ensuring you're driving safely while exceeding current driving standards.
As every learner driver advances differently, there's no set timeframe or structure to driving lessons. Our driving instructors will gauge your goals and capabilities, helping to guide the route and itinerary of each lesson. To cater to all needs, we have a wide range of course options here at iGo, ensuring that driving lessons can be accessed by all learners.
Some individuals will prefer to spread out their driving lessons due to cost. Others will have the investment ready, opting for numerous hourly lessons a week. Having this in mind, there's no right or wrong way to approaching your driving lessons. However, we do find that those who complete regular driving lessons will progress quicker.
To arrange your driving lessons around Heswall, get in touch with our team today. We can work around your availability and budget to ensure you're getting the most out of your lessons.
---
Why learn to drive with iGo driving school?
If you're looking to book driving lessons in Heswall, here at iGo, we are highly experienced and locally recommended to guide you to test standard, helping you obtain your driving certification.
Our wide range of driving lesson courses will offer flexibility for you, as we understand that life can get very busy while juggling your lessons. We can also follow your pace and timescale to ensure that driving to test standard can be achieved; whether that's through an intense 1-week course or 20 weekly driving lessons.
Our biggest aim is to ensure you feel comfortable driving independently, while prioritising safety and the rules of the highway code. To ensure this is possible, we keep all of our lessons and vehicles up to date to ensure you're fully prepared and secure.
Embark on your journey to freedom by investing into driving lessons in Heswall alongside our experienced iGo instructors. For more information or to book your lessons feel free to get in touch today. We can help you learn and prepare for your driving test, no matter how short or long it takes.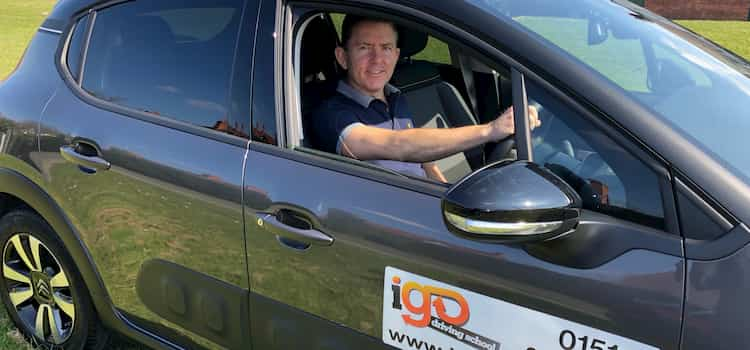 ---
Our courses here at iGo driving school
Here at iGo, we are keen to offer a range of driving courses for our learners. We understand that one method or timeframe will work for some but may not for others.
Our most popular driving lesson course is our 'Try us & see deal'. This is where you can receive 10 driving lessons for as little as £299. This will help you gauge whether our driving school is for you and whether now is the best time to advance your driving lessons. We understand that sometimes it doesn't work, therefore, there's no hidden contracts or implications from block bookings.
Likewise, depending on personal preferences, we offer an intense driving course, where the whole process can be completed in 1-2 weeks. Although this isn't something we fully recommend, and do advise regular, consistent driving lessons instead, time is of the essence for some learners.
If you're simply looking to book driving lessons in Heswall whenever you please, we can cater to this through our general hourly driving lessons. Lessons can be booked in advance or on a weekly schedule to suit your needs.
Whatever your budget, timeframe or experience level, pass your driving test and drive with confidence far into the future with iGo.
---
Our Course Products
Lessons From Just £35 each - 10 Starter Lessons for £299 - Trailer Training from £305
---