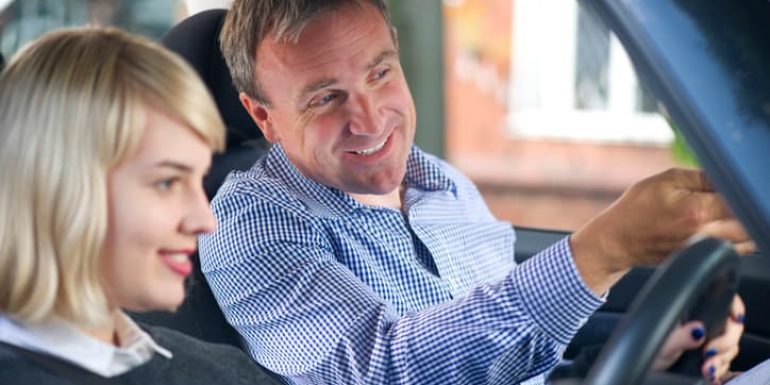 August 01, 2019

/

By admin

/

0 Comments
One of the first questions on everybody's mind when they first start learning to drive, is how many driving lessons to pass your test…?
You might have guessed it already but, the answer to this varies from person to person. Every single person that learns to drive, learns in a slightly different way and at a different pace. A more apt question would not be to ask "how many driving lessons to pass?" but to ask how many driving lessons to make me confident and safe?"
When you ask people about how many driving lessons to pass their test, you often get far lower answers than you would have expected! We've heard everything from 10 lessons all the way to 5 to become test standard! Either these drivers are self-professed prodigies or they are fudging the numbers.
It is possible to pass on a low number of lessons. We have, for example, had people pass their test on around 15 lessons. However, we find these students have either been driving with other instructors or are also driving on their own time with a family member.
Of course, you may be a natural at driving and require fewer lessons. However, even if it takes you more lessons than average to pass, you should look at it as investing the extra time and money in becoming a safe driver.
We understand the amount of lessons is dependent on the amount of money students have. When learning to drive it's important to try not to save money at the expense of your own development.
As a learner driver, your driving instructor will constantly gauge how you are doing and push you when needed – they will never rush you to pass your driving test though.
There is a common urban legend that driving instructors will often hold students back or string them along for as long as possible in order to make more money. This is simply not true for good driving instructors.
People become driving instructors because they love teaching, and especially love seeing their students pass. They also have a duty of care to train you to be as safe as possible on the road. There is nothing worse than hearing one of your students has been in a crash after learning from your school!
How can you pass your driving test quickly?
The first thing you need to make sure you do is get your provisional driving licence. Without this, you won't be able to start the journey of learning to drive. If you have not yet done this, you can find more information on applying for your provisional driving licence at the Vehicle Standards Agency DVSA website.
Once this is all in order, you can start to book your lessons. We offer a number of different package deals you can check out which will allow you to get a block of lessons cheaper than you would if you bought them individually.
We have found that it is helpful for students to do their lessons regularly in order to keep the information fresh in mind for the next lesson, but also not to overdo it. A one hour lesson is perfect because it allows enough driving time to learn something new each lesson and enough time for your driving instructor to go over any talking points.
Get the theory out of the way first
If you are looking to save money on lessons we highly recommend students to focus on the theory aspect of driving first and to pass their test as soon as possible.
The main thing to remember is not to treat this as another annoying test, but to treat it as a valuable learning exercise. This will improve your hazard perception and get you up to test standard sooner.
A family member will be able to help you with a lot of the theory questions, but there are plenty of handy apps out there that contain the actual questions from the test. The official DVSA app also includes a hazard perception section which allows you to practice the hazard perception portion of the theory test.
You can also continue your learning in day to day life, if you are on public transport, or being driven somewhere by a family member, take note of the road signs you see. Another thing that helps is to be on the lookout for any potential or developing hazards to be aware of. This will help you feel more confident to pass your driving test
Once you have passed your theory test the only thing left to do is get up to driving test standard. An intensive course may help you pass your test sooner if you need to.
Whether it takes you 10 lessons or 30 to pass your practical test, it doesn't matter.
30 hours of lessons might seem like a lot, but it's not really. If you have an hour commute 5 days a week, you'll have racked up more driving hours in 6 weeks than you did on your lessons. This is still valuable practice time, even once you've passed your test.
You never stop learning!
Once you have passed your driving test you still have a lot to learn. Now you are no longer a learner driver, driving alone can be scary at first but also exciting. Some drivers find it helpful to display a badge on their car for a short amount of time, this 'P' badge will let other drivers know you have recently passed.
This can be good for some drivers, but bad for others. You'll find that some drivers will treat you in the same way they did when you had the L plate on, just because they see the P plate. This could mean driving too close to you, trying to overtake you dangerously or even getting angry at you. Just remember, you have passed your practical test and you know you can do this. Take all the time you need and remain safe on the road.
There is also the option to go on further lessons with your driving instructor to help improve your skills, such as Pass Plus schemes. Whether or not your driving instructor took you on the motorway as part of your lessons, this is an important thing to cover as it will be a completely different aspect of driving you are used to. You will also cover driving at night and driving in less than ideal conditions – as with standard lessons. These are also usually an hour lesson at a time.
admin
Leave A Comment